ISO9001 Quality Management System
Southa places a high priority on our Quality Management.  We have developed and maintained an effective quality management system that complies with ISO 9002 and confirms to statutory and customer requirements since 1996 then ISO 9001 since 2000.
All contract operations, design, installation and maintenance procedures are systematically described in the safety manual and closely monitored by various Quality Supervisors with high standard of integrity. As a result, we have achieved no "non-compliance" in all of our bi-annual surveillance reports from external auditors.
ISO14001 Environmental Management System
Southa is committed to environmental protection and was accredited with the relevant certificate ISO 14001 in 2006. Supplying environment-friendly and energy-efficient products, designing innovative solutions in an environmentally conscious manner, as well as employing the latest state『of-the-art technologies must always be on our agenda. Over the years' Southa has been actively promoting and installing systems in this direction. To name but a few:
Application of O ODP & 0 GWP ammonia as refrigerant in air-conditioning;
Use of O ODP & 0 GWP hydrocarbon (such as propane and isobutane) in unitary air-conditioning equipment such as window units, household fridges;
Cross-contamination-free total energy recovery wheels employing the latest selective adsorption technology via 3A molecular sieve;
High-efficiency lighting;
Predictive and adaptive control system

Our own Building Management System is based on a truly open platform such as the IEEE802.3 Ethernet and open protocol like TCP/IP. Furthermore, artificial intelligence can give the system a "self-learning', capability to allow it to adapt to the actual customer requirements. We have successfully installed this type of "self-learning" systems in major production facilities in Mainland China.

Pumpable slurry ice;
Maximum use of off-site fabrication, such as pre-insulated chilled water pipes, prefabricated air ducts, branched cables, in order to reduce on-site consumption and waste.
Whenever new opportunities arise, Southa will take the lead in commercially realizing environment-friendly solutions. We also conduct routine monitoring and auditing to ensure that our environmental policy is implemented at all levels.
ISO50001 Energy Management System
As a result of the greenhouse effect, we are suffering from the problem of global warming which is the climate change phenomenon with the temperature rise in Earth's atmosphere and ocean. It has already been an important issue for enterprises to promote green productivity by adjusting energy usage and developing an energy management system.
Energy management system standard ISO 50001 was announced in 2011. In the same year, Southa belonged to the first engineering organizations which were accredited with this certificate.
Southa is committed to energy conservation. By means of systematic techniques, we continuously improve the energy-saving performance in order to reduce energy consumption and greenhouse gas emission.
ISO45001 Occupational Health and Safety Management System
Southa is totally committed to quality, environmental, energy, safety and health management. In summary, we shall ensure our Integrated Management System is in full compliance with the following standards:
ISO 9001 Quality Management System Standard
ISO 14001 Environmental Management System Standard
ISO 50001  Energy Management System Standard
ISO 45001 Occupational Health and Safety (OH&S) Management System Standard
Moreover, all staff members are encouraged to participate actively in our integrated management system  improvement.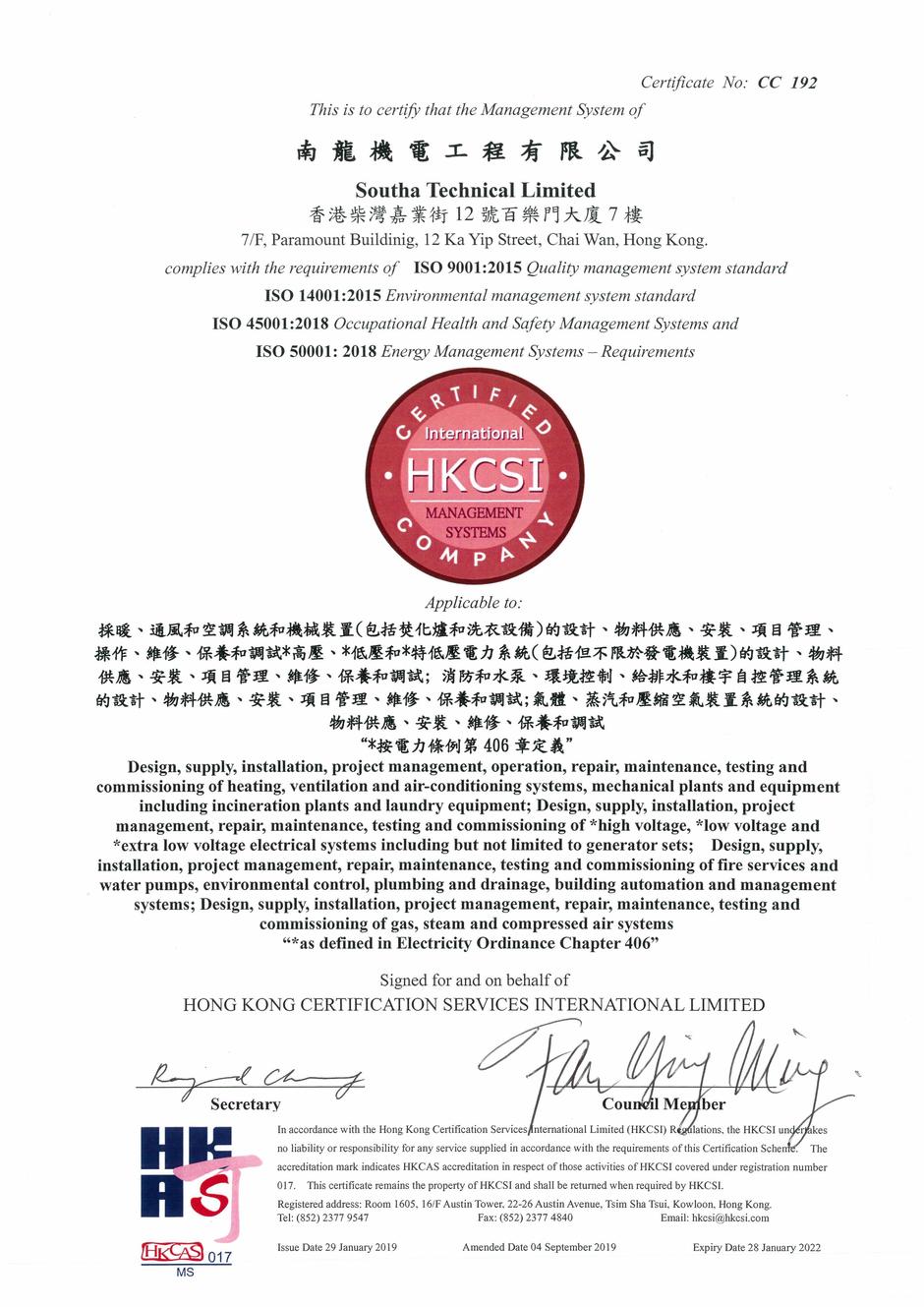 INTEGRATED MANAGEMENT SYSTEM POLICY
Our strategic direction is to maintain strong partnerships with the customers, subcontractors / suppliers and other interested parties to provide most trusted products and excellent services to our clients; and aim to achieve high level of result performance in line with our objectives, the followings are set to support our policy:
To maintain our leading position in the market by identifying customers' requirements and expectations in order to provide our most trusted quality products and services; and to provide quality solution achieving the customers' satisfaction by thorough communication;
To provide excellent integrated engineering services covering a comprehensive range across different phases of a project with support to customers and perform high quality standard of products and services which conform to contractual requirements and all applicable regulatory authorities as well as the applicable standards, guidelines and relevant legal and other requirements in regards to our quality, environmental, safety & health and energy management systems as well as our Integrated Management System (IMS);
To provide appropriate working environments with adequate resources and supports including facilities, equipment and materials as well as the purchase of energy-efficient products and services, design for energy performance improvement, applicable trainings to our staff for excellent products and services delivery and in line with our objectives and targets achievement;
To provide framework with necessary resources and information establishing, reviewing and achieving quality, environmental, safety & health and energy objectives and targets which appropriate to the nature, scale, purpose, size of our Company business operation and context of the company as well as energy use and consumption, specific nature of OH&S risks and OH&S opportunities with regular review. We commit continual improvement, protection of environment, mitigation, prevention, elimination of pollution & hazard and reduction of OH&S risks, consideration of life cycle perspective, sustainable resource use, better efficiency of energy use and consumption, provide safe and healthy working conditions for the prevention of work-related injury and ill health in compliance with the consideration of applicable legal and other requirements covering ordinances and regulations, code of practices and compliance obligation, which are pertinent to all our business;
To undergo and commit progressive continual improvement on the effectiveness and enhancing performance of our Company's IMS; and to stringent review, update and document our policy, objectives and targets, after consideration of actions to address risks and opportunities, in all aspects of our operations annually to ensure continuing suitability in line with our Company Values and communicate at all levels within the Company including consultation and participation of workers and their representatives:
Providing quality service in everything we do
Giving our client the best value for what they pay for 
Setting new standard of excellence and integrity